This guide will show you how to create a USB installer of Apples OS X 10.9 Mavericks.
Have you ever wanted to do a clean install of OS X from but your new MacBook Air doesn't come with a DVD drive?
Well this guide will step you through how to create a bootable OS X Mavericks 10.9 USB drive.
To complete the process you will need the following items:
* 8GB USB drive or SD Card
* OS X Mavericks.app (this can be downloaded from the App Store)
* An Apple computer with the Mac App Store
* A user account with administrator rights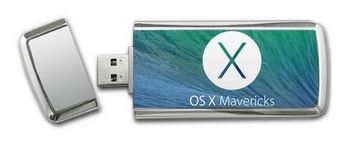 Step 1. Download Mavericks from the App store.
Apple direct link here.
Step 2. Insert your USB into the Mac and run the Disk Utility.
Step 3. Select the USB drive that appears in the left-hand menu and select the Partition tab across the top.
Step 4. Select the drop down menu and click on 1 partition.
Step 5. In the format type menu make sure you have Mac OS Extended (Journaled) selected.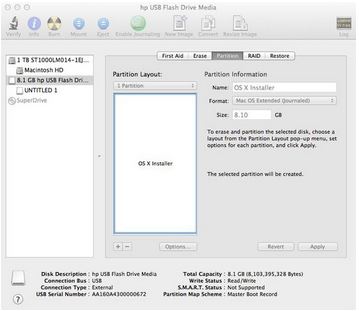 Step 6. Select the Options button and make sure the GUID Partition Table radio button is selected.

Step 7. Open up the Terminal.app you can find it under the Applications Utilities folder or search for it in Finder.
In the terminal window type the following command.
defaults write com.apple.Finder AppleShowAllFiles TRUE;\killall Finder;\say Files Revealed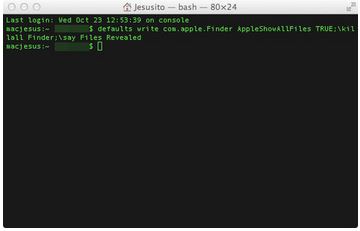 Step 8. When the USB completes the formatting, go into the Launchpad and copy the Install Mac OS X Mavericks.app to your desktop then Right-click and click on Show Package Contents.

Step 9. Go into the Contents > Shared Support folder and double click the InstallESD.dmg file.
Step 10. Click on the mounted.dmg file and find the hidden BaseSystem.dmg file.
Step 11. Go into Disk Utility and open the newly formatted USB and click on the Restore tab.
Step 12.Drag and drop the BaseSystem.dmg into the Source field. And drag and drop the partition that you recently created on the USB drive, into the Destination field.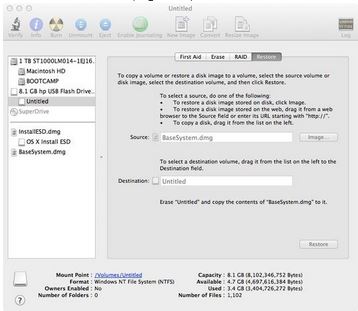 Step 13. Click the restore button and click Erase. You might get prompted for the Administrator password.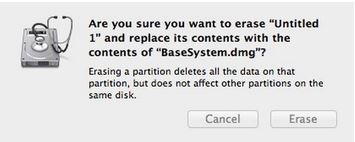 Step 14. It may take some time to copy all the data to the USB drive.

Step 15. When the files have finished copying, the USB drive should mount automatically. Go into the System > Installation folder and delete the Packages directory.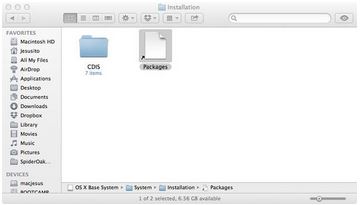 Step 16. Go back into the mounted Install ESD.dmg file and find the directory called Packages. Copy this to the Installation folder.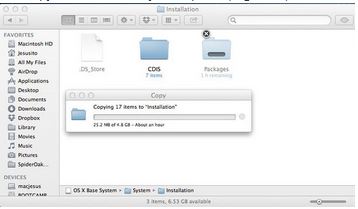 And now you are done. You have just created a bootable copy of OS X Mavericks on a USB drive.
Good Luck.