Hi All,
I have a friend who told me about "WhatsApp" Messenger and how she was using it when she was over seas. So I thought I would take a look at it and see what the ever popular App is all about.
Its a messenger App like the rest but it replaces phone SMS by using the phone's 3G/EDGE or PC's internet connection to send chat messages. This allows you not to pay for SMS in your phone carriers bill.
And you have a free Wifi, then essentially you can chat completely free. WhatsApp is currently the No. 1 paid social networking app on the iTunes App Store and currently number 13 on Google's Play free App store. Whatsapp currently has over 200 Million monthly active users and is a cross platform app which is also available on Blackberry and Windows phones.
Features Include
* MULTIMEDIA: Send Video, Images and Voice notes to your friends and contacts.
* GROUP CHAT: Group conversations which supports up to 30 people!!!
* NO INTERNATIONAL CHARGES: No charges with international email and messages as long as your friends have the app installed you can avoid SMS costs.
* SAY NO TO USERNAMES AND PASSWORDS: Whatsapp uses the contacts already in your phone.
* OFFLINE MESSAGES: Messages sent while a contact is offline still goes through when they come back online.
They do have fine print which also states "When roaming, additional carrier data charges may apply, contact your carrier for more info. 🙂 sneaky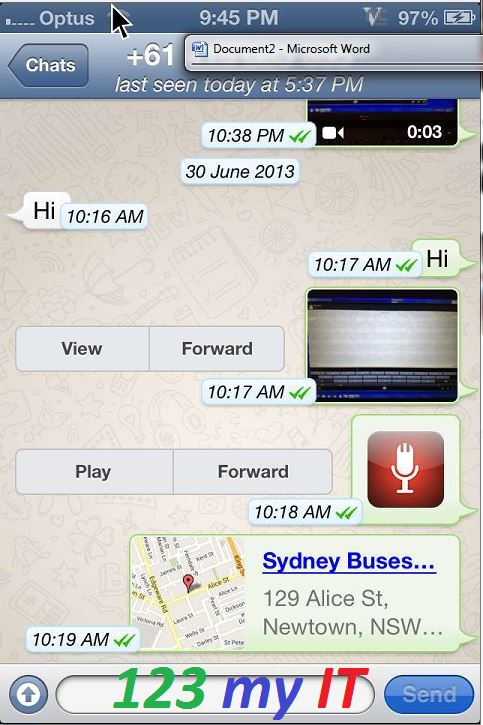 In the video above to install Whatsapp on a PC, you need to run BlueStacks software. The direct links can be found under the downloads section on this page click here.
Good luck and have fun with it 🙂
Matt