Hi Guys and welcome to 123, in this video we will show you a first look at the Apple watch series 5.
The big news for the series 5 watch is the Always-On retina display. Which allows you to always see the time and watch face.
So when the watch is sitting idea or upside down the display will dim which saves energy, but it won't go completely off which means you can still see everything you need.
The display can refresh as high as 60 hertz and as low as 1 hertz. This is what makes the watch so efficient. Apple says that the battery life will last for 18 hours.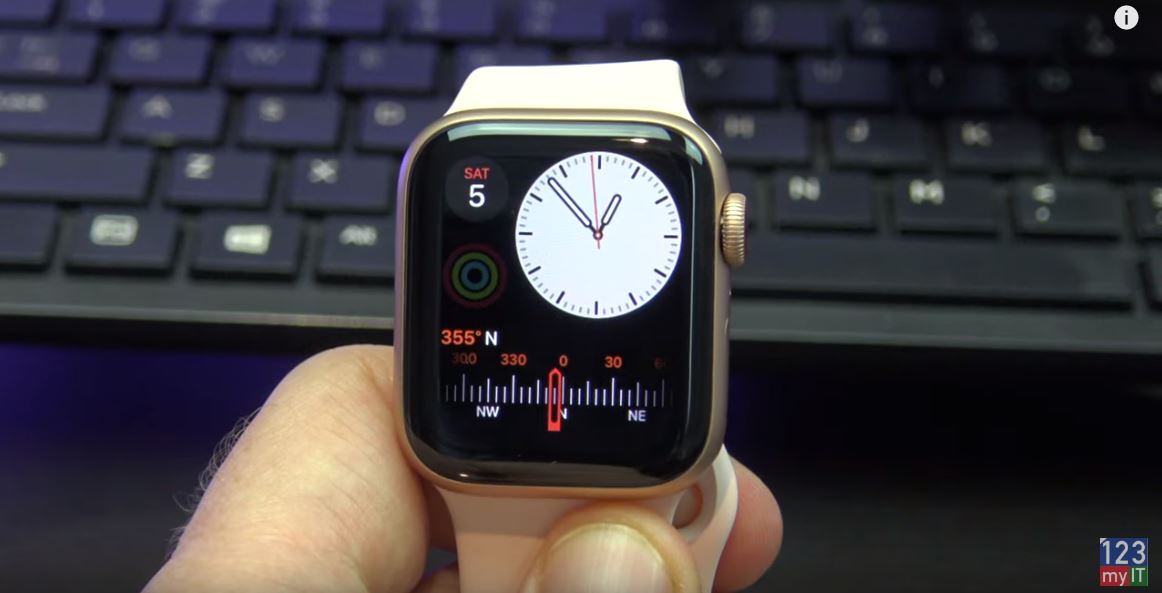 Cost and Sizes?

The Apple watch comes two different sizes.
40mm and 44mm. and there are heaps of different colours, cases and bands to choose from. Pricing starts at $399 for the 40mm and $429 for the 44mm in the Aluminium case.
Case types are Aluminium Stainless steel, titanium and ceramic.
And the wrist band types are Sport Band, Sport Loop, Leather and Stainless steel.
On the outside of the box you will just have the Model Case and band information.
And when you open the box you will be greeted with an embossed image of the watch face that you have purchased which is also colour matched to the model you have purchased.
The model that we have here is the Series 5 Gold Aluminium Case in the 40mm size with the Pink Sand Sport Band.
Accessories
So lifting the lid the first thing you will see are all the accessories. The USB wall adapter for charging the watch.
And to plug into the adapter you also get the wireless inductive charging puck.
Now for this Aluminium model we get a plastic puck, however with the stainless steel model you might get a stainless steel puck.
The paper work you get is very basic it shows you a setup guide and how to install the wrist band for the first time.

The last component is the Apple watch itself and its protected by a microfibre pouch. Its coloured matched to the Apple watch and it has the size imprinted on the back.
A nice feature about the wrist bands is that they should fit any model. So if you have an older band that you really like you should be able to attach it to the series 5. And if you look on the inside you should see details like the model and serial numbers.
Now you can install and remove the wrist bands by pushing a button on the underside of the watch. And you will need to move the band side to side to make sure it has latched on properly.
Next up we take a look at the watch band and we have the Pink Sand Sport Band.
Bands!
This is the 40 mm sport band which is the same design as the original Apple watch. Another great thing to mention is that you actually get two band sizes with your Apple watch. As you can see here we have the small medium and a medium large. So that should suit most people.
Attaching the band is as easy as sliding it into the apple watch and you should feel it click into place.
In terms of setting up the watch you will need an iPhone to do this and its a fairly simple process. All you have to do is boot up the Apple watch and hold it near your iPhone.
You need an iPhone to pair your Apple watch too.
Once your Apple watch is paired just go through the setup prompts.
Underneath the watch in the centre we have a compact optical heart rate sensor which is surrounded by electrodes, this is used to measure your heart rhythm in addition to your pulse.
If we go in and start the heart rate app you will see this sensor turn green. You will also find the specs for the apple watch etched into the ceramic bottom and these include details such as LTE, GPS and 50 meters water resistant.
On the right hand side you will notice the digital crown has a little round red circle which indicates that this is a cellular model. You also have a microphone pin hole, followed by the side button.
On the left we have a speaker grill which allows better audio for two-way communication and Siri feedback.
Water resistant.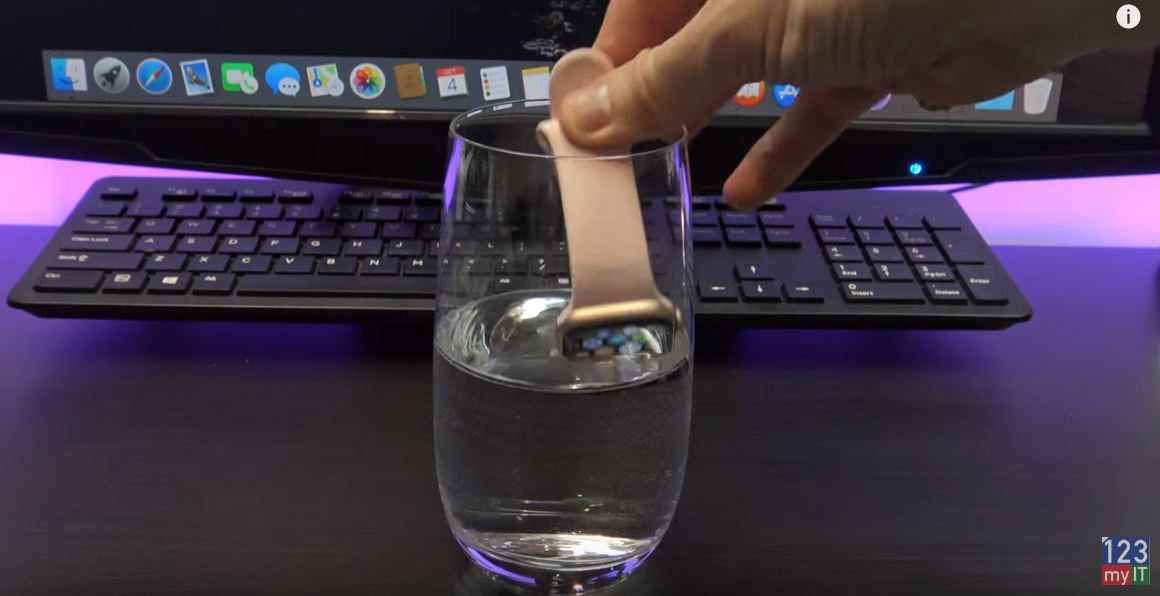 Also another nice feature for the Apple Watch Series 5 is the watch is water resistant up to 50 meters. You can control your iPhone as well so let say you want to take a photo with your iPhone, simply setup your iPhone and open the camera app. Press the button to take a phone. You also have a three second timer, which gives you three seconds before the photo is taken.
Series 5 is the first Apple watch to come with a built in compass. This allows you to see where you are facing in the updated maps app, just like on the iphone and you can add the compass to your watch face to see which direction you are heading.
Safety Apps
You also have safety features such as fall detection, emergency sos and medical id. Every series 5 watch with cellular has international emergency calling. So you can call emergency services in 150 country's by pressing and holding down the side button. And you don't need your iPhone to do this.
Noise detection App
Another cool app on the Apple Watch series 5 is the noise detection app which measures the ambient noise levels of whatever environment you're in and warns you if the sound around you is loud enough to cause hearing loss.
Here you can see the sound has gone to high and the watch starts to give a yellow warning.
So if you want to change your watch face there are heaps to choose from simply open up face gallery app on your iphone and find the face you like and add it.
Customise !
And these watch faces are configurable. So if you want to customise your complications. Just press and force touch the screen. Tap customise. Just scroll down and you can see here its changing the colours of the compass dial.
Swipe across and you will be able to configure different complications. Next up I change it from Analog to digital. Swipe across again and i can change the smaller complications. Lets see Audiobooks, Battery, Breathe I think i will stick with battery. Tap the next complication to edit it. Starts on earth find friends, heart rate. I will stick with heart rate.
And then Just tap twice to return to watch face.
Now to find your notifications just swipe down and can scroll through them.
On the side you have the side button. If you press this once it will display a list of recent apps. Again use your digital crown to scroll through them.
If you double tap the side button it will activate Apple pay.
If you tap and hold you will be able to shut down your Apple watch.

to get to your control centre you can swipe up from the bottom. In your control center you can toggle off or on your WIFI. You also have a cellular button. If you cant find your iPhone you can ping it from your watch. Check your battery and power reserve. You also have do not disturb options. Of corse there is aeroplane mode which turns off all your wireless on your watch.
My thoughts – is the battery life enough?
Is the Apple watch worth it? I don't know. This is the first experience with the Apple watch and I have to say its a great device that does allot! However I sat it down and left it for a day without any use and when I came back to turn it on the battery was dead. For me personally I feel like the Apple watch should last for at least three days before a charged. Already I am plugging my phone in to charge daily. Do I really want another device which I have to take off and charge after 18 hours?
Also guys dont forget to check out my other videos like iPhone 11 unboxing and do me a favor hit the subscribe button and smash the bell icon.
Apple iPhone 11 Pro Silver Unboxing First Look
Transfer data Android to iPhone 2019