Hi guys and welcome to 123myIT. In this video, we will show you to change the function of the side button on your Samsung Galaxy S20. Helpful if you want to change Bixby side button.
If you are annoyed, with the side being set to Bixby then this video will help you change it. By default the side button on your Samsung S20 and other models is set to Bixby. So lets change it.
How to change it? – change Bixby side button
To change Bixby side button go into Settings and scroll down to advanced features. And tap side key up the top. These are your side key settings. If you want to be able to double press the side key you can turn it off by toggling the button at the top. Otherwise if its turns on you have the option of Quick launch, camera, Open Bixby and Open app. Open app can be pretty handy if you want to choose an app to quick launch. For example Google Chrome to start web browsing. If you look below that you have the Press and hold menu. This is where you can change that annoying Bixby button, as you can see I have changed mine already from Bixby to Power off Menu.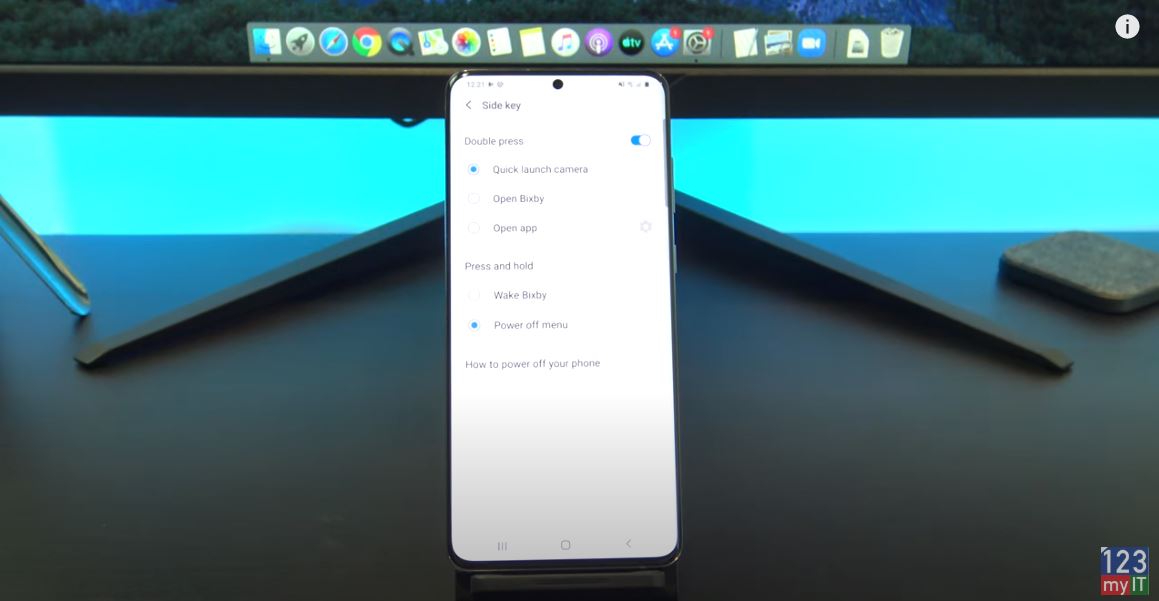 Side button defaults
However by default yours will be set to Wake Bixby so tap Power off Menu instead and let go ahead and test it. There you go it works now. The side button has now been set back to a Power Off button.
Let try setting Google Chrome on the double press option. Awesome that works as well! Ok if you want to set it back to Bixby here's how.
Also guys don't forget to check out my other videos such as Make your phone number private on Android. And do me a favour if you know anyone who might need this video please share it will them, hit the subscribe button and smash the bell icon.
Copy Data iPhone to Android with iCloud 2020