In this video we will show you a HP ProBook 430 G6 Unboxing.
The ProBook 430 G6 is currently the smallest model of this series and has a 13.3-inch display.
If you want a bigger display HP also sells 14-inch, 15.6-inch and 17.1-inch in the ProBook 400 range.
HP ProBook 430 G6 Specifications.
This probook comes with an Intel Core i5-8265U processor, 8 GB of RAM, a 256 GB SSD, and a Full HD display.
The design of the previous ProBook the 430 G5 did not last long and I think this is a good thing. See the review of the G5 here.
The G5 had a dark plastic Case, where as the G6 now has a really nice silver case.
On our model both the palm rest and display cover are still made of smooth, silver plastic.
The unit feels sturdy and does not bend when I apply pressure to it. The craftsmanship is also really good. HP have done a really good job with this laptop.
The G6 has a wide drop-down hinge that grips the display and allows the display to open to a 180° angle. We could also open the display cover with one hand, underlining how well balanced the hinges are.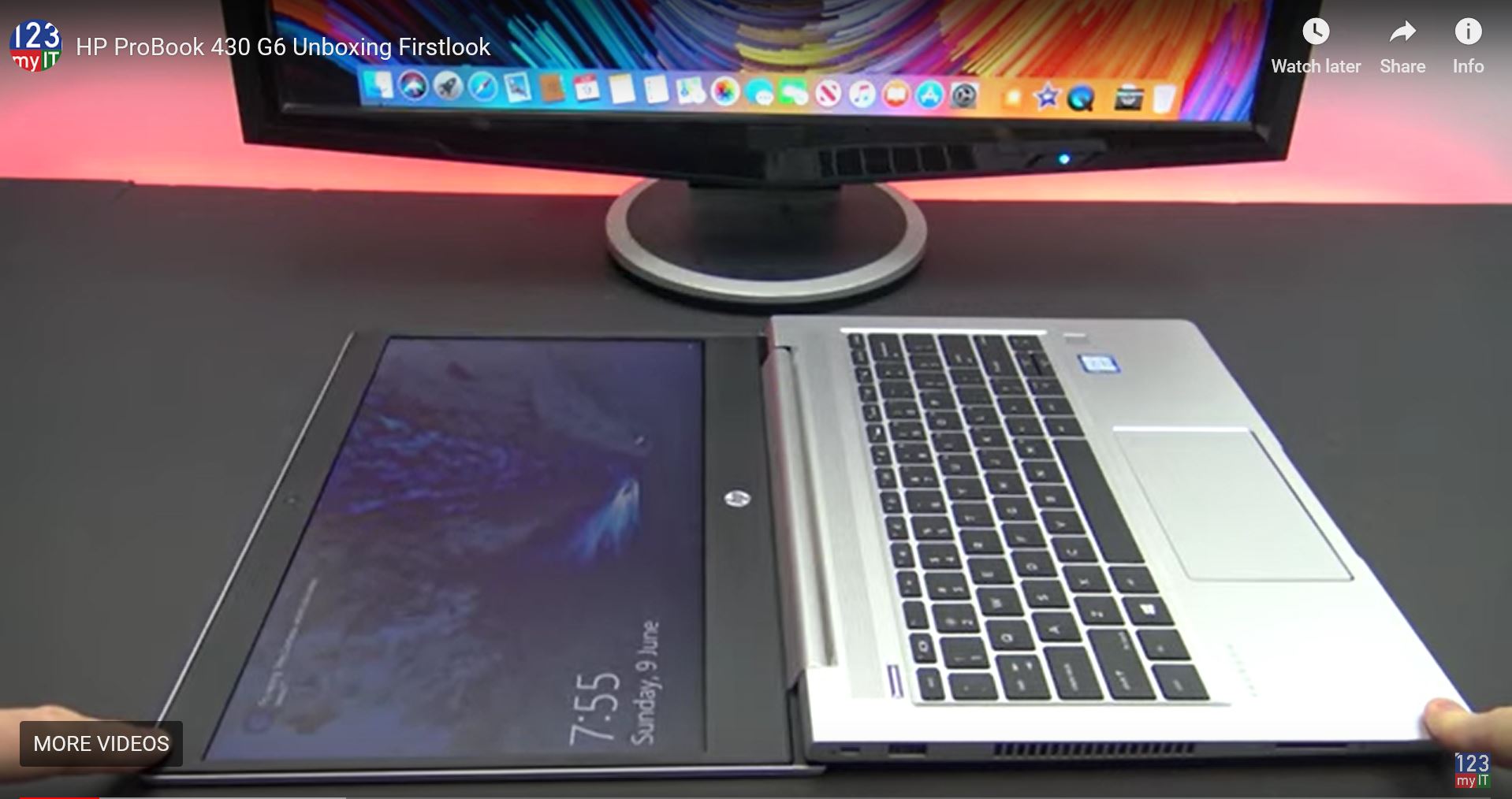 The ProBook G6 is about 100 g (~3.5 oz) lighter than the ProBook G5, 1 mm (~0.04 in) thinner and more compact overall. Hence, G6 has much thinner display bezels. Which I really like.
Ports.
The good thing about buisness laptops is that they have a much wider variety of ports.
On the right side the G6 has a full-size HDMI and RJ45 Ethernet ports along with a USB type-A port and headphone jack. There is also a USB Type-C port. Unfortunately it's not a Thunderbolt 3 port, but at least you can charge the ProBook with a Type-C cable if you need too, as it has USB Power Delivery (PD) support.
The Type-C port supports DisplayPort out too and you also have a AC power port which lights up to let you know the G6 is being charged.
On the left side you have a Kinsington lock, USB type-A port and an SD card reader. The SD card sits flush inside the laptop so you could use this to upgrade the storage of the laptop without opening the case.
You can expect the SD card reader to transfer at speeds of around 81 MB/s.
Also included is a fingerprint reader that supports Windows Hello. We tested the infrared camera and the fingerprint reader, which both worked perfectly. HP saves a smart card reader and a mechanical camera aperture for its more expensive EliteBook series though, which prevents the ProBook from being a complete security package.
The ProBook 430 G6 comes with just a charger and a recovery DVD. The ProBook also lacks a dedicated docking port, so you must buy a USB Type-C docking station should you need one. You can use any third-party docking station though, which is positive, although HP sells compatible docking stations too.
Pick one up at Amazon here.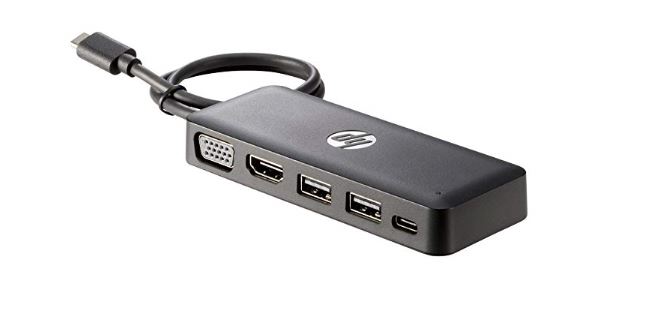 Upgrade.
The ProBook 430 G6 is easy to upgrade and you can do this by removing the bottom cover. Plastic clips hold the bottom case in place as well, so I would recommend being careful when prying it free.
You will see two SODIMM slots, of which one is unoccupied in our review unit.
The system supports 64 GB RAM so you could upgrade that, there is also an empty 2.5-inch drive bay if you want to add an HDD or SSD.
There is also an M.2 2280 slot, but you must first remove the boot drive, as you must with the Wi-Fi card should you wish to upgrade that too. The fan is also easy to clean should that become dusty over time. The keyboard looks tricky to remove though and is probably only interchangeable if you remove the motherboard.
HP Warranty.
You will only get 12 months warranty on the ProBook G6, However you can opt to buy extra cover.
Keyboard and Trackpad.
The G6s' keyboard is now smaller and HP have removed a row of dedicated navigation keys, which sat to the right of the keyboard.
The navigation keys have been merged with the right-most Function key and the arrow keys.
The flat, black, keys have a two-stage backlight and feature off on and brighter.
The ProBook 430 G6's TrackPad measures 11 x 6.5 cm, which is pretty large for a 13.3-inch laptop.
The TrackPad is made of relatively smooth plastic, on which it is easy to slide one's fingers, but glass TrackPads feel better to the touch.
The TrackPad is fine overall and even its integrated mouse buttons work well. I find left click sometimes hard to find.
multi-touch gestures like scrolling or zooming and allow decent TrackPads to feel almost as responsive as touchscreens.
HP ProBook 430 G6 Display.
HP gives customers the choice between a 1366 x 768 display and a 1920 x 1080 one. However the viewing angel for the 1366 x 768 is not great. Also because of the dim display you might find it hard to use outdoors.
CPU
The Core i5-8265U is a quad-core processor that has a 15 W thermal design power (TDP) and a 1.6 GHz base clock speed. The CPU also supports Intel Turbo Boost for clock speeds up to 3.9 GHz on a single core. Please see our CPU benchmarks page for more information about the Core i5-8265U and how it performs against other CPUs.
GPU and Ram.
All ProBook 430 G6 models use the Intel UHD Graphics 620 for graphics. There is no dedicated option. The UHD Graphics 620 shares its memory with the CPU and benefits from running in dual channel mode, which is only enabled when the system is running with two RAM modules installed. Our review unit is only equipped with one RAM module, so it runs in single-channel mode, which restricts GPU performance. Hence, you could squeeze more performance from the UHD Graphics 620 if you added another stick of RAM, but it would still not be powerful enough for demanding tasks like CAD or video editing.
Like the CPU, the GPU is factory-throttled when running on battery. Activating Turbo Boost in the BIOS reverses this limit though.
You could add another ram module and this would put the graphics in dual channel mode. However it would still not be powerful enough for demanding tasks like CAD or video editing.
HP ProBook 430 G6 is Not a Gaming laptop.
The ProBook 430 G6 is not a gaming laptop in disguise. And this shows in the 3d Mark Score. The intel 620 graphics is powerful enough to play older games like BioShock Infinite at 720p, but current triple-A titles are out of the question.
you cant connect an external GPU either, which would have allowed for serious gaming. I would recommend looking at the 455 G6 which I reviewed recently heres the link.
Accross the top of the display we haev a 720p HD camera, a status indicator light and two mic pinholes. Our model didnt have an infrared sensor, however you will need this for face recination.
the g6 has an excellent 45watthour battery and when browseing the web can last for around 9 hours.
The hp probook 430 g6 is an execllec laptop choice for students and small buinesses. Its battery life, upgradeability, lightweight and sturdy desgin are really impressive but its lets down by the dim display.
Guys if you want to check out other HP probook reviews I have done click the links now.
HP ProBook 430 G5 Unboxing FirstLook
HP ProBook 455 G6 AMD – Will it run Fortnight?