This video will show you how to identify an affected Apple AC Wall plug adapter. These adapters are being recalled by Apple because of a design fault where by the affected plug could shock some users.
This is a massive design fault by Apple a company that prides itself on great design. The adapter that comes with all iOS and Mac computers which allows you to change the power cord for a longer power cord or to change adapter type for different country's.
If the plug gets damaged or breaks over time there is a chance that that you could take an electric shock.
Most people would assume when a plug is broken in this way that you would throw the plug out and by a new one, however improved design may actually stop being shocked even with a faulty plug.
And thus the Apple Recall has started.
So how do you tell If you have an Apple recall plug or not? Well here is Apples explanation below which I find that I had two read it a few times to make sense of it. 🙂
Identifying your wall plug adapter
Compare your adapter to the images below. An affected wall plug adapter has 4 or 5 characters or no characters on the inside slot where it attaches to an Apple power adapter. Redesigned adapters have a 3-letter regional code in the slot (EUR, KOR, AUS, ARG or BRA).
Source Apple.com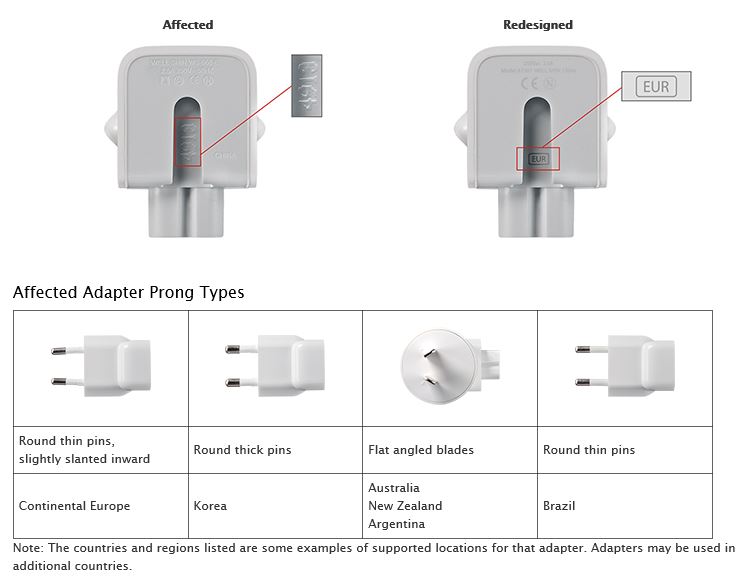 So can we have that in plain English please? Basically in these countrys Europe, Korea, Australia, Argentina and Brazil, If you check your AC adapter and it has 4 or 5 numbers on it or is blank then you can return it to an Apple store for an exchange.
Pretty straight forward? I don't know why they didn't just say that on their webpage.
Cheers
Matt