Hi Guys and welcome to 123myit. In this video, we will show you how to use the Accessibility feature called tap back on your iPhone. This Secret iPhone Trick feature allows you to tap the back of your iPhone two or three times and the phone will perform an action.
You can apply all sorts of different action like invert colours or scroll up and down just by taping the back of your iPhone.
Ok lets go ahead and set it up. You can find Back Tap under Settings Accessibility Touch and then scroll to the bottom and you will find Back Tap.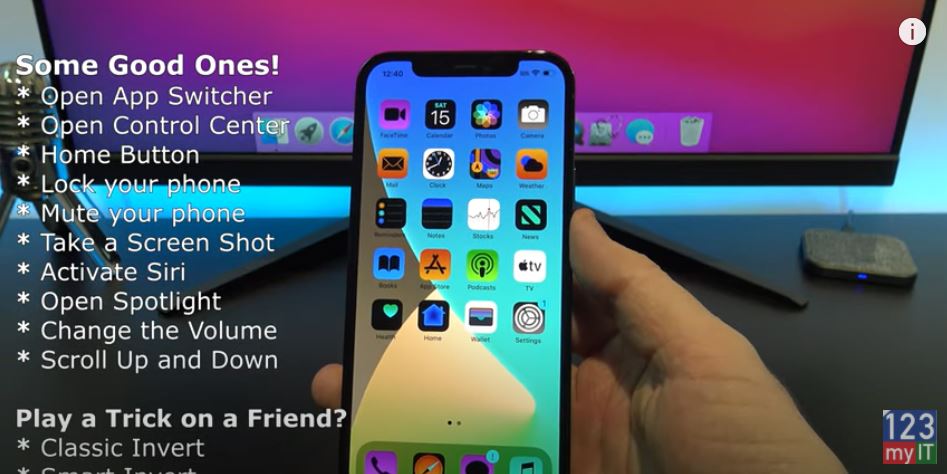 Double tap and Triple Tap – Secret iPhone Trick
In here you have two settings, double tap and triple tap. If we go into double tap it means that you will have to tap the back of your phone two times to perform the action. So you have a whole heap of actions you can perform. Lets test some out. Currently we are on Classic Invert lets change it to Smart Invert. Smart Invert is a bit like Dark Mode. It will change the colours of your iPhone to make it a bit easier on the eye. You could prank a family member with this.
The next one to try is scroll down. So it I select scroll down and tap the back of the phone twice it will scroll down in whatever menu I am in. Also you can set the Triple Tap as a scroll up action.
App Switcher
Next one to try is setting Triple Tap to Control Center and Double Tap to App Switcher. So if you do a double tap it goes to App Switcher so I can change apps or close them. And if you do a Triple Tap it will take you to your control Center where you can change your volume, turn your touch or turn on aeroplane mode.
You can set it up with volume up and down. This is handy if you listen to music allot. You probably want to set these to something you use frequently. You can select other apps like Magnifier. But, its not something I use allot so I would not find it that handy. It is a pretty fun App though.
Also guys don't forget to check out my other videos such as 8 iPhone settings you need to turn off in 2021. And do me a favour if you know anyone who might need this video please share it will them, hit the subscribe button and smash the bell icon.