Hi guys Matt from 123myIT here. In this video, we will show you everything you need to know about the HP EliteBook 830 G8.
HP Range of Laptops – HP EliteBook 830 G8
The EliteBook range is the premium level for HP's Business laptops. Below the EliteBook you will have the ProBook and above the ZBook range.
This is 13.3-inch business laptop comes with an Intel Core i5 11th Gen Processor which has an integrated Iris Xe Graphics. Along with 8GB of Ram and 256 GB of NVMe storage.
Pricing
Pricing for the 830 G8 starts at $1759 USD for the Intel i5 CPU and goes up to $2059 USD for the i7 CPU. On the HP website, you can customize and buy. If you are going to do this, then I recommend upgrading to an i7 CPU and changing the screen to a screen with better brightness. The default screen comes only with 250 nits of brightness. You can upgrade to a screen with 1000 nits of brightness, which means the screen will be brighter. However, you should be aware that a brighter screen would also take up more battery life.
In the Box
In the box, you will get the 830 G8 itself. Along with a 45 watt power adapter. After testing the 830 G8 I found it uses around 14 to 37 watts of power. In addition, you can expect to get around 12 hours of battery life 8 hours if you select the 1000 nits brightness screen I talked about earlier. Charging the battery will take just under one and a half hours.
The 830 G8 comes with a 13.3 inch FHD LED Anti-Glare Display. With a resolution of 1920×1080 and 250 nits of brightness. The display is a bit dim however, this laptop designed to be portable, so a less power hunger display means longer battery life.
Does it Game?
In terms of gaming, I was able to get FortNite to run ok on giving up about 35 to 50 Frames per second. This would be mostly due to the Intel quad core i5 11th gen CPU as the Intel Iris Xe GPU is not the best for gaming.
The 830 G8 also has a finger print scanner, which allows you to unlock Windows with a touch of the button, but you need to add it in the customise and buy section I mentioned earlier. Along the top, you will find an integrated HD 720p webcam with dual microphone and indicator light. One of the cool things about the 830 G8 design is you can close the camera off with a sliding button.
Ports
On the right side, you have the charging port, HDMI 1.4 port, two USB C ports and a SIM card slot. This SIM card slot is cool but you will two add this as an option when you buy. You also have an indicator light to show when the laptop is being charged. The USB C doubles as a display port so if you have a USB C to HDMI adapter you can plug in an external display.
On the left, you have a security lock, two USB 3 port, Audio Jack and SC card reader. Annoyingly there is no SD card reader.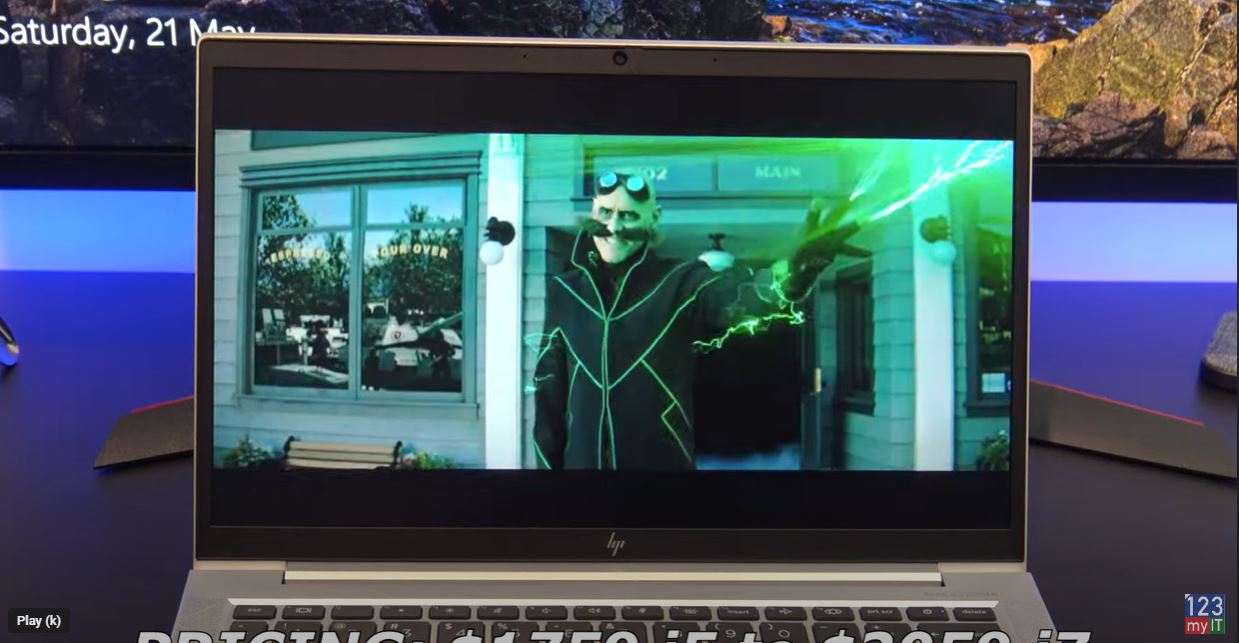 Speakers
The 830 G8 comes with Bang & Olufsen dual stereo speakers and they are designed to point upwards towards your ears. The speakers sounds pretty good but missing a little bass.
The Trackpad is nice and wide. But I do find myself right clicking allot because to left click you need to press on the bottom left side of the Trackpad. For me it feels like the trackpad sits too far to the left.
Keyboard
The keyboard is excellent it is a delight to type on and the keys don't bend or wobble when you press them. And it comes with two stage backlit keyboard as standard which is a nice touch.
The overall build feels like premium quality as it is made from aluminium and there is little to no flex on the laptop. In addition, it does not seem to leave fingerprints, which is great.
The display hinge folds all the way back 175 degrees; however, other laptops go all the way to 180 degrees, so 175 feels a bit awkward.
Can you upgrade it?
You can also upgrade the 830 G8 by removing the screws from the bottom cover. The system supports 64 GB of RAM so you can upgrade that along with a 1TB NV Me SSD. The WIFI card is already WIFI 6 so you will not need to upgrade that for a while.
Benchmarks
Here's the Geekbench CPU score and the GPU score. Moreover, when comparing the scores with the EliteBook 840 G7 model from last year the 830 G8 is much faster. However, the ProBook 640 G8 seems to be faster than the EliteBook 830 G8.
While running the benchmark if we check what temperature the laptop gets too which is around 35 degrees. You can see the heat does not show up around the palm rests. This is good design it means you palms won't get uncomfortable when typing.
Worth it?
The EliteBook is a great portable business laptop. This means that typing and battery life will be really good. But this is not a gaming laptop. If you are looking for a gaming laptop you should look for a laptop with the GeForce MX or Radeon RX GPU configured.
Don't forget to check out my other videos such as How to Transfer Data iPhone to Android with a cable. And do me a favour if you know anyone who might like this video please share it with them, hit the subscribe button and smash the bell icon.